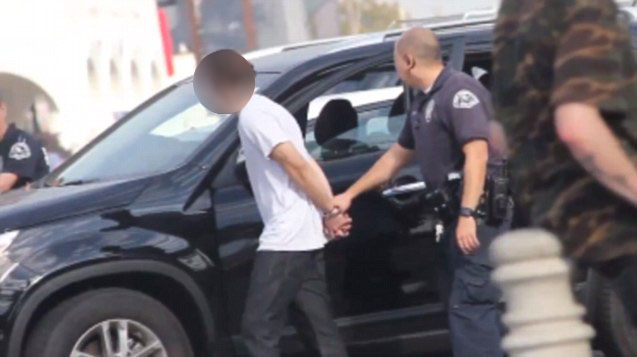 I used to work for Dick Clark Productions, the production company that produces major award shows like Golden Globes, American Music Awards, and Country Music Awards. I didn't have any credentials or access for this year's Globes, so I decided to sneak in and see how difficult it was. After I was able to get into the Beverly Hilton, I noticed my 2010 credentials were designed different, so I stayed and picked up some shots with my iphone until I was asked to leave.
Just Walk in
What do I mean by that? The best way to hustle sets or events when you don't have permission to be there is to have confidence in your body language and the way you handle yourself. This is the most important factor. To understand this more in depth, I've created an advanced guide on how to hustle sets which I will be releasing soon. In this video I get kicked out of the Golden Globes, so I'm not promoting that anyone try this, if you do it is at your own risk. Understand that hustling any type of film set or private event comes with risks of trespassing or other legal ramifications.
Lingo
This is a perfect example of me saying one sentence in the proper lingo for this kind of event. All that it took was one sentence. When asked, "What are you doing here?" My response was "I am here to pick up my credentials." Simply by knowing the lingo for this type of event at least got me into the Beverly Hilton lobby. Although I knew going in I may not get any further than that without credentials, I still had a feeling of nostalgia from my experience working the Golden Globes in 2010. Although all I need was lingo for this event, there are other techniques. You need to go in with an arsenal of other techniques to be used. You want to be prepared before you try to even go in.
Size Matters
Surprisingly it is easier to hustler larger events and films than smaller productions because people all have their missions like ants in an ant farm. It is much easier to navigate in the chaos of a larger production. Key is to try and stay under the radar. With smaller productions, a lot of the time, smaller venues, everyone knows each other. It is like being in a small town where everyone knows each other.
Do Your Research
Ultimately one of the most important aspects of hustling is to make a game plan and know your surroundings. Try to scope out the location ahead of time. If you can, try to know names and their positions, and any knowledge of your surroundings. Go in with a mission. Creating a solid game plan includes going in there and accomplishing your goal. If your plan is to network, then go in there and get your business card and make connections. Your end game is to make connections. Make sure that you have business cards and offer to lend a helping hand.
That's a wrap
For those of you pursuing a career in entertainment, I'm releasing tons of videos this year giving filmmakers tips I've learned throughout my career. Weather your new to Los Angeles or have been struggling out there for years, this guide will tremendously increase your success rate on finding more work and increasing your daily rates. Sign up for free at www.craigseidl.com or follow me on Facebook for all the latest video postings.

With 15 years of running his own business, he's built up an extensive resume working in graphic design, film, and music. Craig has had the privilege to work with some of the largest producers, celebrities, and top production companies in Los Angeles. His experience brings a competitive edge to any project, large or small.

Latest posts by Craig Seidl (see all)