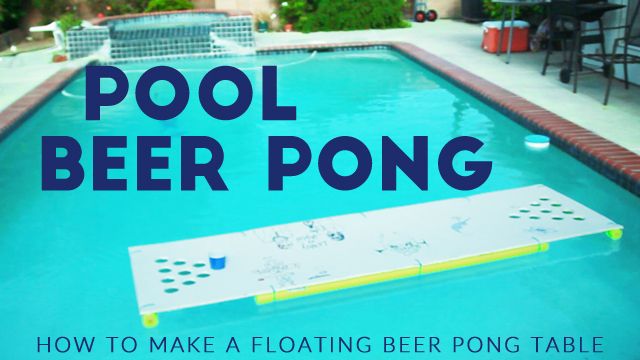 Floating Beer Pong
Have you been thinking of pool party ideas? Summer is here and it's time to take your favorite college drinking game and play it in the pool! You're at the right place if you are looking to make your own Portopong "inflatable beer pong table"
or floating beer pong table. We bought 2 official Portopong floating tables for over $50 bucks each and they both popped shortly after purchasing. Save yourself the hassles and make your own lightweight floating beer pong table so you wont be pissed if someone breaks it.
Supplies You'll Need
Your floating beer pong table will take you roughly an hour to assemble. Make sure to call up some friends and have them help out. The faster you build it, the faster you'll be able to start playing pool pong! Next time you are at the dollar store or Walmart, remind yourself to pick up 5 pool noodles, zip ties, red solo cups, and ping pong balls. Then head over to Lowes, Home Depot, or Menards and pick up 4×8 Sheet of Foam insulation about 1/2in thick. The rest of the stuff you should have laying around at home. This pool beer pong rig will run you anywhere from $10-$20 dollars depending on where you live.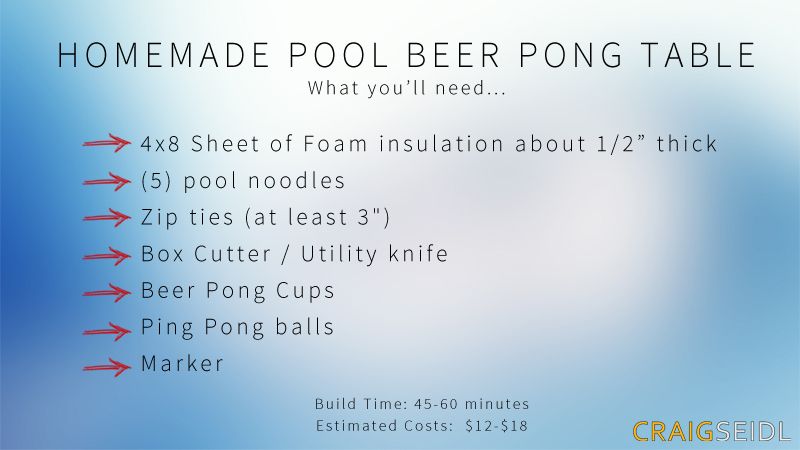 Budget: $12-$18
4×8 Sheet of Foam insulation about 1/2in thick (lowes and home depot)
x5 pool noodles (Dollar Store)
Zip ties (at least 3″)
Box Cutter / Utility knife
Beer Pong Cups
Ping Pong balls
Beer
Marker
Pool pong tips
Cold Beer
This little tip is to keep the beers cold and out of the warm pool water. This method is not shown in the floating beer pong tutorial video. Simply add a cross beam pool noodle in front of the cup holder holes, then add a garbage bag that creates a container to hold ice under the cups. One thing is for certain, you will get pool water in those cups from time to time. Some people would rather use dummy water in the cups and just drink when the other team scores. Which ever you prefer a little bit of pool water wont kill you. You can save yourself more time and money if you don't plan on having beer in the cups.
Cheap Light Beer
Its almost a requirement when playing beer pong to use cheap beer. Not only would it be extremely expensive to use craft beer but some craft beers are too thick or rich for a drinking game. I find that light beer goes down easy and keeps off the calories.
Stock up
There is nothing worse than running out of beer. You will need a minimum of a 30 pack to get you started but it is highly recommended that you stock up! Drinking and Driving is illegal and you'll be surprised how fast you go though beer with just a couple games of 2 on 2.
Warnings
When you mix a hot summer day, with a cold pool and beer; things can get a little crazy, please drink and play responsibility. Our official Portopong floaties popped because of havoc in the pool. Your DIY pool pong table is also at risk of breaking because of horseplay. Bringing a floating beer pong table to a pool party will turn heads and will make you the coolest guy at the party. So make sure to build one for summer festivities such as Labor Day, Memorial Day, 4th of July, Birthdays, and house parties.

These are sponsored links from Amazon associates.

With 15 years of running his own business, he's built up an extensive resume working in graphic design, film, and music. Craig has had the privilege to work with some of the largest producers, celebrities, and top production companies in Los Angeles. His experience brings a competitive edge to any project, large or small.

Latest posts by Craig Seidl (see all)